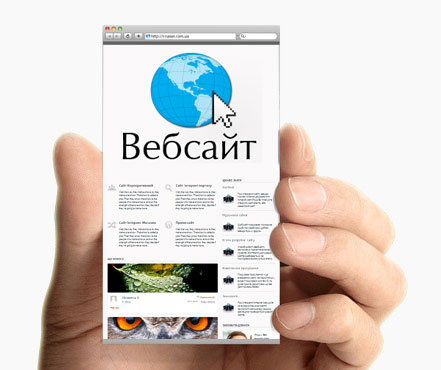 Site card - it is a full-fledged internet-resource, usually consists of several (5-10) pages containing the main information about the company, its activity, offered goods and services, characteristics and methods feedback. Competently developed site-card becomes hallmark, effective advertising, twenty-four-hour head office, the face of the company in the Internet. Small business site enable to make a definite opinion of your organization or company. Goals of web site Cards - to present company, services or goods in Internet. Small business site is a small presentation of the company and its services and contains, as a rule, general information about the company, services, price-list, details, set the passage, etc. Usually, such site suitable small firms or creative individuals.
Development business card site Allows users to make themselves millions of Internet users. This compact, easy, laconic and at the same time informative site tell potential clients about the activity of the company, on tariffs for goods / services, promotions, ways of cooperation. On the website you can learn how to find a company it is agreed to contact and even make a request.
Creation of a small business site is a very important step for your company for extension of its business and obtain new clients in менежі Internet. This is advertising of your business hours, or 24 hours a day.
Creation of a small business site enables the company provide information on themselves, their activity products etc. This is the creation of an information site small volume and the price. Website design is created special and individual using your graphic images. Website design is perfectly meet the style of your company.
The most popular sections of the site cards:
Home page
About the company
Goods and services
Prices (prices of goods / services)
The list of types of goods / services
news
Contacts (feedback)
Despite the fact that online business card - a simple website without enclosed sections, its development is a very effective solution for entrepreneurs, professionals in the service sector and large companies.
Benefits site creation to us:
relatively low cost of creating a website, business cards and its support;
site developed in a short time;
development structure, menus and site content;
The site provides the most specific, concise information that is easy to find on the site with a simple menu and ease of navigation;
competently, efficiently and beautifully designed site forms the image of the company, is the confidence of potential buyers;
створення сайту-візитки – ефективний спосіб випробувати новий напрям у вже сформованому бізнесі. Аналіз поведінки покупців на сайті допоможе визначити найбільш успішні рішення для подальшого розвитку тієї чи іншої діяльності.
the original design of the site;
online business card - a great start for new business;
content management system CMS (You can independently change the information on the site);
-hostynh hosting and the domain name;
Complete statistics of your site visitors;
Learning to work with the site.
The main characteristics of developed sites:
Author's Website Design qualitatively distinguish your site from the gray mass of millions of websites.
Easy administration panel site will allow even inexperienced internet user to edit all information sections of the site.
Basic SEO-optimization to find a site in search engines (Google, Yandex).
After-sales service website.
Deadline - from 10 working days.
The cost of business card site:
Design by: individual
The volume of the site: 15 p.
Term of up to 2 weeks
Site Price: from $ 300